<![if !vml]><![endif]>

Stan Bradley's

Progressive Martial Arts

A wholly owned subsidiary of

Sound Karate Club, INC

.
_________________________________________________
Welcome to Stan Bradley's Progressive Martial Arts!
"The ultimate aim of karate lies not in victory or defeat, but in the perfection of the character
of its participants."  Gichin Funakoshi
Registration for 2019/2020
Karate registration will be on Wednesday, September 4, from 6:00 PM to 7:00 PM at the new Parry Sound School gym, 21 Beatty Street.
Regular classes start Monday September 9. Classes are every Monday and Wednesday night, except for holidays.
Class Schedule
The karate year is divided into three terms.  The fall term is from September until December.  The winter is from January until March.  The spring term is from April until June.
Classes are held at the Parry Sound School, 21 Beatty Street, on Monday and Wednesday nights.  Class times are:
Children's beginners class ages 6 to 7 years old

6:00 PM to 6:30 PM

White to green belts

Children ages 8 to 12 years old

6:30 PM to 7:15 PM

Adults,  teens, green belts/higher

7:15 PM to 8:45 PM
Need more information or have a question?  Click here to contact us.
Policy on cancelled classes
Please note the policy change as of September 2019: If school buses are cancelled because of weather karate classes will still be running.  If a karate class is cancelled for whatever reason, we will post the notification on the Sound Karate Club page on FaceBook.
Registration
Click here for a Registration Form in PDF format.
Contents
Introduction & Background
Our mission is:
<![if !supportLists]>Ø <![endif]>To help individuals challenge themselves in order to reach their full potential
<![if !supportLists]>Ø <![endif]>To build positive character, both mentally and physically.
<![if !supportLists]>Ø <![endif]>To strive for continuous improvement.
<![if !supportLists]>Ø <![endif]>To respect others and our environment.
<![if !supportLists]>Ø <![endif]>To understand and follow the dojo kun; the five guiding principles of karate.
The end result is a better person, a better community and a better world.
Shihan (master) Stan Bradley was a 7th Dan Black Belt in Shotokan karate who dedicated his life to teaching.  At the age of fourteen Shihan Bradley began his life long journey in martial arts with Kancho Takemasa Okuyama.  His journeys took him all over the world and along the way he achieved many successes winning the Ontario Championships three times in a row, being awarded the "Coach of the Year" by the Karate Ontario Association, having his students win the Ontario Championships and the Canadian Championships, plus many more accomplishments. 
Shihan Bradley continued to teach right up until his battle with cancer ended and he passed away at age 47 on December 30, 2003. We continue on with his teachings for the next generation.
Instructors
The club today is managed by four instructors who train under the guidance of Shihan Ted Jungblut.  They are Sensei David Cox, Sensei Holly Kelly and Phil East. 
Shihan Ted Jungblut began his Karate training under Masami Tsuruoka in 1966 and opened the Jungblut School of Karate in 1979. Shihan Jungblut has represented Canada in the capacity of competitor, team captain and team coach. He has also held positions as national referee, member of the National Technical Committee, V.P. of the NKA, director and President of the Karate Ontario Association. 
Shihan Jungblut's qualifications include:
<![if !supportLists]>ü <![endif]>8th degree Black Belt in Shotokan Karate
<![if !supportLists]>ü <![endif]>4th degree Black Belt in Chito-Kai Karate
<![if !supportLists]>ü <![endif]>3 time Canadian champion
<![if !supportLists]>ü <![endif]>National Team Coach 1985 – 1991
<![if !supportLists]>ü <![endif]>Certified by the National Karate and Coaching Associations of Canada
<![if !supportLists]>ü <![endif]>International competitor 1969 – 1978
<![if !supportLists]>ü <![endif]>Inducted into the NKA hall of fame 1990
<![if !vml]>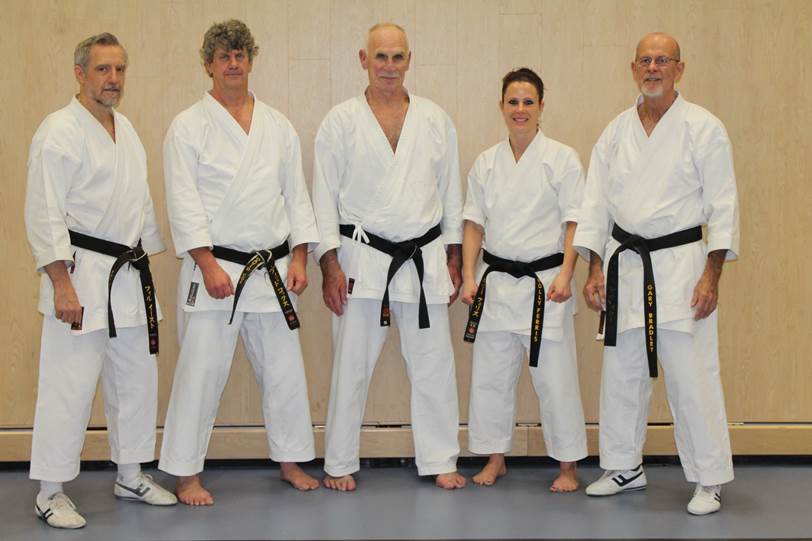 <![endif]>
Classes
Classes focus on exercise and self defense using the shotokan style of karate.  Other aspects of martial arts (such as chito-kai, and other styles) are also part of the training.  Classes typically begin with stretching and warm-up exercises followed by martial arts training.  The classes are divided by age group and skill level where each student works at their own pace. 
Please note that individual students will progress at different rates.  This is normal.  At higher belt levels (green and above) it can take a year or two before a student progresses to the next level.  Green belts and above need to attain a level of fitness, agility, focus and self-control, along with great improvement in the forms of the martial arts before they progress. All of this takes time to develop.  It is important to practice karate at home so that the moves become second nature to the student.
It is very important to train regularly unless you are ill!  
Regular training enables you to progress.  If you are ill, we ask that you do not train for two reasons: One is that your body needs rest to beat your ailment, and two; other students do not want to catch your illness. 
Parents and guardians: If you are dropping a child off for karate, you must take your child inside the dojo (training room) to ensure that classes are running that night.  For safety, especially during dark winter nights, do not drop you child off on the street.  When classes have finished, a parent or a responsible person must be there to pick children up.
If you would like to take pictures during a class, please ask a sensei first.  We request that you do not take pictures during a test as the interruption breaks the student's concentration and disrupts the current session.  After the grading has been completed, there will be time for picture taking.  Thank you in advance!
Club Rules
Common sense and courtesy.  If in doubt, ask.
Fees
Fees are collected to cover the cost of insurance, visiting instructors, incorporation, accounting, equipment purchases, general expenses, and rent.  There are three sessions; fall (September to December), winter (January to March), and spring (April to June).  Fees are paid in advance of each session. 
The summer training session starts in July and ends the second last week in August.  The summer classes are for higher belts and instructors who would like to keep training in karate over the summer
The fees for each session are:
Children beginners (ages 6 to 7):        $120 per session
Children/Teenagers/Students:            $165 per session
Adults:                                                 $175 per session
Session 1:       September to December
Session 2:       January to March
Session 3:       April to June
Dojo Kun
The dojo kun was written by Gichin Funakoshi and is the ethics of karate.  Each is numbered as "one" as they are of equal importance:
hitotsu, jinkaku kansei ni tsutomurukoto.


one, to work toward completion/perfection of character.
<![if !supportLineBreakNewLine]>
<![endif]>

hitotsu, makoto no michi wo mamorukoto.


one, to protect the path of truth.
<![if !supportLineBreakNewLine]>
<![endif]>

hitotsu, doryoku no seishin wo yashinaukoto.


one, to nurture a spirit of hard work.
<![if !supportLineBreakNewLine]>
<![endif]>

hitotsu, reigi wo omonzurukoto.


one, to give weight to courtesy and respect.
<![if !supportLineBreakNewLine]>
<![endif]>

hitotsu, kekki no yuu wo imashimurukoto.


one, to rein in impetuousness.
The language is old Japanese and does not translate well into English. In North America, the dojo kun is generally translated as follows: